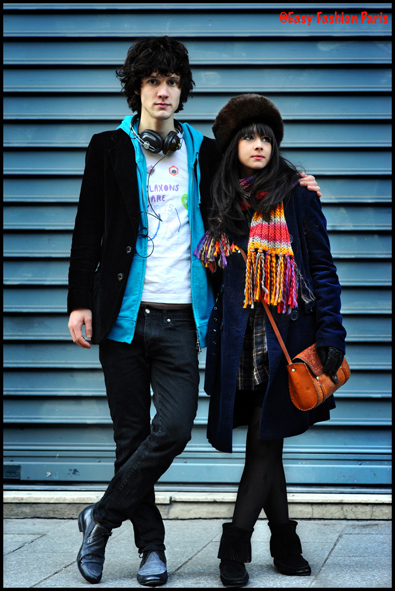 Daniela 18 - Design Student
Coat/Shoes/Gloves/Scarf: CAMAÏEU
Manteau/Chussures/Gants/Echarpe: CAMAÏEU
Skirt/Robe: from Toulouse
Bag: Vintage
Fur Hat: Vintage
Perfume: "Pur Poison" by DIOR
Last Book: "L'écume des jours" by Boris Vian
Last Music: Elvis Presley
Fashion is a state of mind. My look reflects the mood of the day.
La Mode, c'est un état d'esprit. Mon look, c'est mon humeur du jour.
I love "The Kills". I hate him (showing Kevin)
Kevin 21 Design Student
Jacket & Shoes: From London
Pants & Sweat shirt: UNIQLO
Tee-Shirt: The Klaxons (Music)
Head-Phones: PANASONIC
Perfume: "Egoïste" by CHANEL
Last Book: an essai by Jacques Attali
Last CD: The Hooseirs
Fashion is influenced by arts. My look is freezing.
La Mode est influencée par les arts. Mon look est glacial
I love Art. I hate pollution.